When a Duke Says I Do
Written By Jane Goodger
Kindle Price: $4.61
Sensuality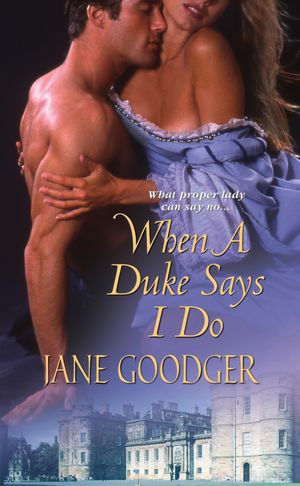 I was on a car ride towards Florida coming from New York, and scanning through the Kindle Store, I found When a Duke Says I Do. From the blurb, I was excited for this book, especially with a Kindle rating of 4.5 stars! My theory is that almost every time you find a Kindle book with ratings of 4.5+ it will be well worth your pennies! With this warmhearted story, my theory stays true. This tale is sweet, gentle (of course there's moments of conflict where you just want to wring the hero/heroine's neck!!), and I was completely satisfied for a trip 19 hours in the car.
Elsie Stanhope is a unique young girl who resides with her

father

,

the Baron of Huntington

, in Nottinghamshire. Years ago, her beloved

twin sister

and

mother

had passed, leaving Elsie with an emptiness robbing her of sleep in her own bed.
Elsie has been engaged to the future
Duke of Kingston
ever since she's been a child.
Oscar Wilkinson
is currently believed to be the Marquess of Hathwaite, and the next man in line for the title of the Duke of Kingston. Neither Elsie nor Oscar wants to marry, but Oscar is frightened by his father's wrath; therefore he must marry. Huntington was paid a large sum for a trade and in return also was given the Duke of Kingston for his daughter to marry. For this reason alone, Elsie feels she cannot disobey her father.
When Elsie plans on having a mural painted of her favorite memories with her deceased sister, the muralist assistant turns out to be the fantastic main artist. Elsie will keep his secret, but she is intrigued by him and wants to learn of his mysterious past. The assistant,
Alexander
, does not like to speak to people, but finally opens up to Elsie.
Alexander paints the same image of Elsie's dream past; for he grew up as a boy with the same fond memories there. The only problem is, Alexander is the true future Duke of Kingston, but he refuses to return to his duties. Elsie and he fall in love, but cannot marry because he is only a "muralist's assistant".
Will Alexander open up to Elsie on his past and true identity to win back his title and claim the love of his life? Find out in this charming story, When a Duke Says I Do.
Ending felt a bit rushed for me, when I was expecting a superb, sweet scene. It irritated me how they didn't completely resolve their issues until the epilogue, and that they just said, "we have problems, but let's just act as though it never happened meanwhile we're still frustrated with each other" or at least that's how it was implied. Over all, this is still a great love story and I recommend it anyway!
Amazon: When a Duke Says I Do
Goodreads: When a Duke Says I Do